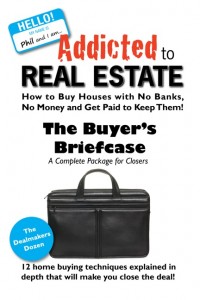 Tuesday night's Addicted to Real Estate Meet-Up was chock full of great information, but you missed it!
What did you miss?
How to buy houses with NO BANKS, NO MONEY, and GET PAID TO KEEP THEM!
The presentation featured 12 powerful home buying techniques to help you close the deal. Included were:
1- Seller Financing
2- Subject to
3- Private $
4- Seller Financing and Subject To
5- Seller Financing and Private $
6- Private $ and Subject To
7- Private $, Subject To and Seller Financing
8- Wholesaling
9- Foreclosures
10- Lease options
11- Equity Partnering
12- Wholesaling to Yourself
The 90 minute meeting covered all these techniques, but even better, you now have the opportunity to finally learn these in-depth and really "Get Busy Buying".
At the meeting, we unveiled the "The Addicted to Real Estate Buyer's Briefcase" a complete package for closers. The package consists of an actual briefcase, complete with all the forms and training you will ever need to buy houses with NO BANKS, and NO MONEY. With the briefcase you will be COMPLETELY prepared for ANY home buying situation, and you will have all the tools at your fingertips to get the deal done!
You get ALL of the following with the The Addicted to Real Estate Buyer's Briefcase:
• Complete text on each topic
• Educational videos (educational videos for each topic)
• Accompanying workbook to reinforce what you learn
• Sales videos (videos to help prepare you to make the presentation to the seller)
• Sales scripts – know what to say to every seller
• Powerpoint seller presentations on disk
• Flipbook seller presentation
• FORMS – All the forms you will need, as well as easy to follow instructions and images about how to fill them out
• Complete audio CD's of the educational series
• Complete audio CD's of the sales series
The package is currently in development and will be ready in Spring 2012.
Take the time to watch the video from the Meet-Up. It will be the best time you spend all year!
Addicted to Real Estate, invest in real estate, investing in real estate, Investor, Investor info, Phil Falcone, Real Estate, Real Estate Books, real estate investing, real estate investment, real estate real estate investing real estate investment real estate investing tips real estate investing for beginners commercial real estate real estate investment firms real estate investment group, Seller Financing, The Buyer's Briefcase, We buy houses
Addicted to Real Estate, Blog