What is the buyers briefcase and I would I want it? Watch this great real estate meeting video to find out!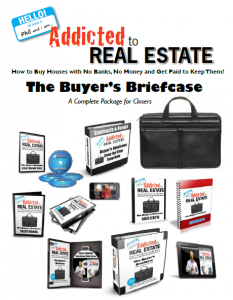 Phil Falcone is a Philadelphia area full-time real estate investor who started in the business in 1989 at the age of 23, and whose portfolio today includes commercial offices, apartment buildings, and residential homes. Phil is the author of Addicted to Real Estate–Why I Can't Stop and Why You Should Start, an honest account of an addiction to real estate. From his first investment property over 23 years ago to his relentless search for the next great deal every day, Falcone is a non-stop real estate investment machine!
Phil will be sharing with us how he buys houses with none of his own money, without the support of banks, gets to keep the properties and sometimes gets paid to buy them. He will delve into the details of actual deals he negotiated and describe why his methods were so effective. Learn how he used his addiction to help him achieve his goals and why he can't stop investing in real estate. Phil will inspire any investor to achieve higher levels of drive and success in the rewarding world of real estate.