The Real Estate Assembly Line is meeting – RSVP NOW to save your seat
This is your invite to the The Real Estate Assembly Line meeting. Go here to RSVP.
http://www.meetup.com/REALtrust/events/46694102/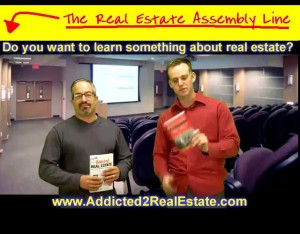 Come out to spend an evening discussing real estate investing strategies including Seller financing followed by a social event at the Bertucci's restaurant next door. This month investors are encouraged to bring info on their business's – B Cards and fliers may be distributed in the room prior to the meeting.
THERE IS A $5 CHARGE FOR THIS MEETING PAID AT THE DOOR.
With prices at all time lows and interest rates you can count on one hand… don't you agree that the time is NOW to GET BUSY BUYING real estate?
Whether you are a n00bie or a seasoned pro, the decision you will make to start massively acquiring residential real estate right now could have a life changing profound effect on you and your family's life. Don't think you can't do it. We will show you two guys who are and how exactly they put together the pieces of the real estate wealth puzzle…
Phil Falcone "Mr. Addicted2RealEstate" and Jeremy "We don't need no stinkin' banks" Ricci have launched a private real estate investment trust… REAL Trust. They say the REAL is not for "Real" estate, but the Real Estate Assembly Line!
How to get all the money you need (plus some) to invest in real estate without BANKS
How to stop flipping houses and start investing in houses (…and still feed your family!)
The 3 simple steps to creating MASSIVE wealth with silly little houses
The "smack yourself in the forehead" single greatest resource for private lenders
The hidden gem investment that you'll never hear about from your financial planner
and… what kind of a deal is a R.E.A.L. deal?
Join Jeremy and Phil for a "drinking water from a fire hose", get off your butt jump start jam session on how to GET BUSY BUYING real estate! Are you ready to get addicted 2 real estate?
See you there… RSVP right now to reserve a seat.
P.S. There will be an after party across the street
http://www.addicted2realestate.com/category/blog/
http://www.joinrealtymark.com/
Addicted to Real Estate, Conference, Executec Suites, Flipping homes, Flipping homes for profit, Get Busy Buying, Green screen studio, How to do a flip, invest in real estate, Investor info, Phil Falcone, Real Estate, Real Estate Books, Real Estate Guru, real estate investing, real estate investment
Addicted to Real Estate, Blog