My Top 7 Secrets Revealed on Real Estate Investing by Phil Falcone from Addicted To Real Estate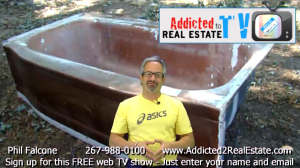 The following seven ideas can make you RICH. I might have some fun while explaining them but they are for real. At least six of them can make you rich. One of them can make you FAT.
1-Order a Pizza
2-High Grass Houses
3-Think Big
4-Make real money when you buy
5-Persistence is Omnipotent
6-It's an art not a science
7-Do business with the businesses that do business with your business.