Driving for dollars with Phil Falcone of Addicted to Real Estate in Sarasota Florida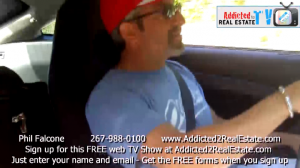 In this video Phil takes us on a ride while he looks for houses, talks to people and tries to find houses that need buying. Watch to see what he finds before his camera battery runs out.
Don't forget to RSVP for my big meeting coming up this month. The meeting, How to quit your job, move to paradise and buy Real Estate to change your world! Here is the link. http://www.meetup.com/Addicted2RealEstate/events/82382022/
http://www.addicted2realestate.com Phil Falcone is a Philadelphia area full-time real estate investor who started in the business in 1989 at the age of 23, and whose portfolio today includes commercial offices, apartment buildings, and residential homes.