Chapter 64 Carry Paper to Make It Happen from Addicted to Real Estate by Phil Falcone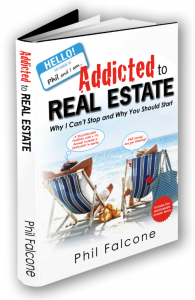 Chapter 64 Carry Paper to Make It Happen
In April of 2009, I bought a townhome near where I live for the sole purpose of flipping it. The property had gone to sheriff sale and was getting an upset price somewhere in the range of $125,000, but there were no takers. If a property doesn't get sold at a sheriff sale, it then becomes an REO or a real estate offering. This is what a property is called after it is given over to a realtor to move the property through the standard channels using the MLS. I was able to initiate a deal for $118,000 to purchase this property. It was a multiple-story townhome with two bedrooms upstairs and one full bathroom. Downstairs the property had a half bath, a kitchen, laundry room, and living room. The size of the property is 600 sq. ft. on each floor for a total of 1200 sq. ft. It came with an association fee that covered the landscaping costs along with the roof and the parking lot.
I started renovation on the property, and it took six weeks to redo most of the house. I put the house up for sale for $168,900 after sitting on the market for about two months and received a full price offer with a 6 percent sellers assist. This realtor who represented the buyer in this case turned out to be my old friend who sold me my first two properties in 1989. He recognized my name as the listing agent and the owner of this property and knew he would be able to successfully deal with me provided there were problems on this real estate transaction. Since they were giving me a full price offer and I totally renovated the home, there wasn't much to argue about. There wasn't anything for them to demand being fixed, but they did request that I pay for a home warranty.
The problems started when the appraisal was done, and the building was valued at $158,000. Now the buyer was giving my realtor friend a hard time because he felt as if he clearly was directed to massively overpay for building. Furthermore, we had financing issues because the buyer did not have an additional $10,000 to put up to put this deal together. With the buyer threatening to walk if I didn't come up with a solution, I put my thinking cap on between myself and my old friend, the realtor, and we came up with the following solution.
I was planning on making approximately $15,000 off the sale of this property at the original sales price. The deal that we agreed to do was I would carry a second mortgage for $10,000 on a thirty-year amortization at the same interest rate that the original loan the buyer was planning on getting. The only difference would be the second mortgage will be due in five years in full. I wasn't thrilled about only receiving $4349 in profit with a $10,000 second mortgage note, but considering I was in the middle of two other flips, it seemed like the logical solution to the problem. I also went back to my realtor friend and told him that I was taking a huge hit; therefore so was he, as I asked him to take a discounted buyer broker fee for me. I also backed out of my home warranty deal saving myself $400.00.
When you use home equity line of credit money to buy properties and flip them, you need to keep selling those properties and replenishing your line, or you're out of business. Taking $4349 profit is better than being out of business, so I made the deal. If the buyer pays me the $55 a month every month for five years and then pays me the full amount, I actually do rather well. Fifty-five dollars a month turns out to be $660 a year for five years; it turns out to be $3300. At the end of the five years, he owes me almost $9200 anyway because I'm charging interest just like mortgage companies with a small amount of principal being paid off with each payment. If he pays in full, I get the $9200 + $3300 for a subtotal of $12,500 collected on this loan plus the original $4349. So in summary, if he pays everything that is agreed to pay, I will collect $17,500 in profit off this deal by the end of the fifth year. But what happens if he doesn't pay?
Make sure it's legal to have a second mortgage on a deal like this considering it may be in the paperwork for the primary mortgage that no secondary mortgage would exist. If the buyer doesn't pay, as a second mortgage holder, I have limited options. I could file a lien against the house, but I cannot force a foreclosure nor do pretty much anything about it. It also doesn't look likely that the house would even be able to sell for $168,000.
You see his down payment and the seller assist on the appraised figure of $158,000 got them a mortgage somewhere in the range of $148,000. Considering the house was just appraised for $158,000 that would leave little equity in this property to foreclose on anyway. So theoretically in a worst-case scenario, I received my $4349 of profit at settlement and never received another penny. I would have a second mortgage lien on the property in the amount of $10,000, and it is possible that the house would sell ten years from now for $190,000. At that point, I could collect my money.
A much better scenario for me would be to sell the house for full price and walk with the $15,000. However carrying a second mortgage or carrying paper to get the deal done makes sense sometimes. Keep in mind this option as a tool in your toolbox that you one day can pull out to make a deal happen.