Isn't it time you learn and understand the power of Trusts? Never buy in your name again! 11/17/12 at 10 am to 3 pm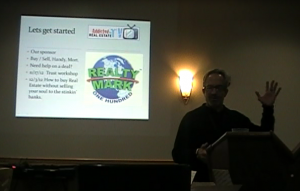 RSVP HERE FOR THE MEETING http://www.meetup.com/Addicted2RealEstate/events/86432712/
The mystery of using trusts for your deals gets revealed…
"How to hold title to Real Estate in trust!"
Don't miss this opportunity to learn how to use Trusts in your deals once and for all to control and more importantly protect your assets.
Q: Are you holding title to your property in your own name? Why?
Q: Do you hold title to more than one property in your LLC or corporation's name?
Q: When a nosy neighbor, a buyer, your tenant, or worse… their attorney Google you (or your company) on the public records, will they know about every single deal you have ever done?
RSVP HERE FOR THE MEETING http://www.meetup.com/Addicted2RealEstate/events/86432712/
There's another way… TRUSTS …and, there's even more benefits to doing so!
Don't miss out on this little known tool utilized by savvy investors worldwide!
Here are some of the topics we'll cover:
How trusts can provide anonymity and transaction privacy
Keep your assets and deal flow out of the "public eye"
Protect your property from scheisters
How to instantly transfer your wealth without your property going through probate
Who would be an ideal trustee
How to get an "out of state" trustee and why
How to use trusts for checkbook control of your IRA
How to put your other valuable property into trust
…and how to control your assets even "from the grave" so your heirs don't pillage your portfolio
RSVP HERE FOR THE MEETING http://www.meetup.com/Addicted2RealEstate/events/86432712/
GET OUT YOUR CALENDAR AND CLEAR YOUR SATURDAY SCHEDULE…
HERE ARE THE WORKSHOP DETAILS:
Speakers: Jeremy Ricci & Phil Falcone
When: Saturday November 17, 2012
10 a.m. – 3 p.m.
Where: Doylestown Health and Wellness Center
847 Easton Road, Warrington, PA
$99.00 per person
Limited Seating! Reserve your seat TODAY!
Isn't it time you learn and understand the power of Trusts, Title Holding Trusts, Personal Property Trusts among others? This will be a down-to-earth, nuts and bolts class on Trusts. We will cover practical, everyday techniques you can use to help bulletproof your assets as well as advanced strategies for use when you are ready. You will gain insights on methods others can use to separate you from your hard earned dollars and assets, then how to legally protect yourself. Benefits of knowing how to use trusts include… protection from liens, protection from title claims, discouraging litigation, protection from HOA related claims, and making contracts assignable.
See you there and don't forget to check out my TV show at:
RSVP HERE FOR THE MEETING http://www.meetup.com/Addicted2RealEstate/events/86432712/
www.Addicted2RealEstate.com
www.JoinRealtyMark.com
www.RealtyMark100.com